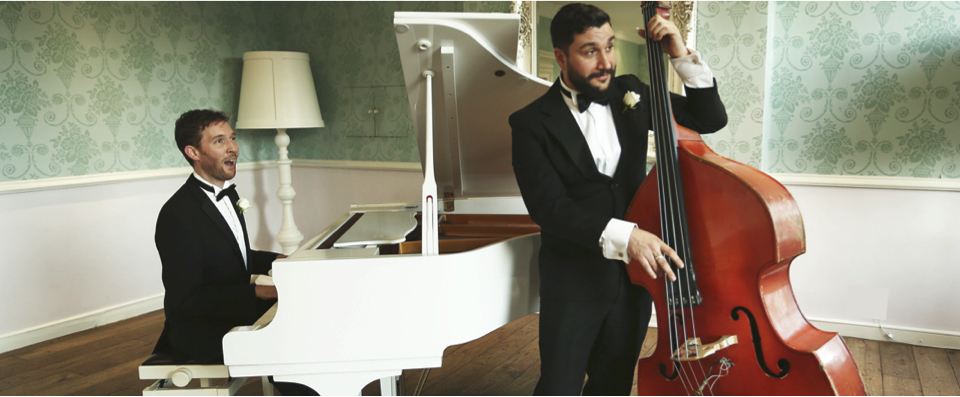 Welcome. Dapper Dudes offers great swing music for special events. This talented, charismatic duo make a joyful sound creating a welcoming atmosphere at your champagne reception. They play familiar songs made famous by artists such as Nat King Cole, Michael Bublé, Nina Simone and Sinatra, plus some modern songs with a twist. They have an eclectic repertoire with influences from the great jazz divas, movie musicals, 50s Vegas to Manhattan piano bars. If it swings, they'll play it.
Dapper Dudes pride themselves on the quality of their musicianship, reliability, punctuality and their attire. They formed the act to show off their terrific playing with great singing and arrangements as smart as their suits. The duo has played together at many prestigious venues including The Savoy Hotel, Kensington Palace, The Goring Hotel, The Elgar Room at The Royal Albert Hall, The Royal Festival Hall, Tate Modern and Rosewood, London.
"I was delighted by your music on my birthday. It was just the right mood and you played beautifully.
Many thanks to you both" - Jane Long
"Everybody raved about you guys at the reception, you were amazing and such fun.
Thank you for everything" - Naomi Smith, bride.
"You provided superb entertainment for our afternoon drinks party in the gardens of Bedford Square. You delighted our guests with your smooth & totally engaging performance"
- Mark Snell, InferMed Ltd.